---
Tag Manager Italia
English Resources
Welcome! This is an English language courtesy page for Tag Manager Italia (www.tagmanageritalia.it), the first and only Google Tag Manager portal in Italian language.

On this page you can find a brief English language summary of Matteo Zambon and Tag Manager Italia activities.

While the Italian language portal features over 660 pages of content, at the present moment only a small portion of that content has been translated in English language.
All the Tag Manager Italia English language content is available on this page.

If you would like to explore the full Tag Manager Italia website (which is in Italian language only), you can do it at www.tagmanageritalia.it
What is Tag Manager Italia?
A brand of the Italian company "In Risalto Srl", Tag Manager Italia (TMI) is the leading Italian provider of training, consultancy and SaaS services for Google Tag Manager.

The training activities of Tag Manager Italia include:

The tagmanageritalia.it portal – the first and only Google Tag Manager portal in Italy. It contains both basic and advanced guides aimed at Google Tag Manager users.
The Tag Manager Italia Club – an Italian language membership packed with a full stack of GTM video training and resources, together with a Private Facebook Group since September 2017
Il Picchio – the first paper magazine in the world about GTM (currently available in Italian language)
The paperback book "Google Tag Manager per chi inizia" (Google Tag Manager for beginners), now in its third Italian edition, which sold over 2000 copies.
The consultancy services of TMI are aimed to medium/large companies; some clients include Esprinet (one of the 10 biggest IT distributors on the world), Banca IFIS (a specialty finance Italian bank), Conte.it (a brand of Admiral Insurance Company Limited), and many more.

The SaaS services of TMI are focused on Project Andromeda, an original tool suite based on GTM API that extends the features (and the purpose) of GTM.
What is Project Andromeda?
Project Andromeda (www.projectandromeda.io) is an original tool suite based on GTM API that extends the features of GTM.

Among other features, Andromeda allows you to:

save a lot of time with 2-click installations of GTM configurations in multiple sites at one time

extend the functionality of GTM from a web-analyst-only tool to a resource for all the teams of a typical digital agency.
In particular, Project Andromeda includes the "Spy Tool": a SaaS software which allows GTM to analyze in real-time the GTM containers of 3rd party websites, in order to study their web analytics strategy and to obtain competitive intelligence data.

For instance, with the Spy Tool you can
create printable A4 reports about your competitors web analytics strategy (which tool they use, how much they spend, which custom HTML Scripts they use, etc.)
visit the website of brand XYZ, download its GTM container, inject it locally in your browser and watch the GTM Debug & Preview just as you were a web analyst of brand XYZ.
The Spy Tool has been officially validated by Google and is 100% legit.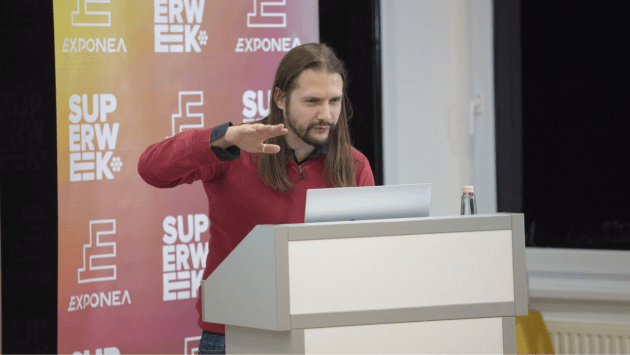 The first popularizer of Google Tag Manager in Italy since 2015, Matteo Zambon (www.matteozambon.com) is getting recognized by the international digital analytics community as one of the more skilled experts on GTM.

He has decades of experience as a full-stack web developer alongside an in-depth specialization in SEM, SEO, and web analytics, consolidated with several Google certifications.

A Silver Product Expert in the Italian Google Advertiser Community, Matteo has created and developed various structured System Integration projects, like IRMA – the first SMS-based public transportation booking service in Italy.

Since GTM hit the market, Matteo devoted his efforts to this amazing software, founding in 2015 Tag Manager Italia, the first and only Google Tag Manager portal in Italy (www.tagmanageritalia.it – in Italian).

Consultant, trainer and speaker in international events, Matteo is the author of the first book in Italian on GTM (Google Tag Manager for Beginners, 2015), which was translated in English (www.tagmanagerbook.com – in English).

The book has sold more than 2000 copies, and it is now in its second English edition and third Italian edition.

In 2016 Matteo created "Al Comando", one of the very first video training ever made about GTM.

In 2017, the training evolved in the "Tag Manager Italia Club" (club.tagmanageritalia.it – in Italian), the first membership in the world focused exclusively on GTM training and implementation.

In 2018 Matteo created and developed "Project Andromeda" (www.projectandromeda.io – in English), a one-of-a-kind software suite that allows GTM users to save up to 83,7% of their time and to legally "spy" the digital analytics strategies of both their competitors and best-of-breed websites.

Alongside with his activity of speaker, divulgator and trainer about GTM, Matteo works with the Tag Manager Italia team as a consultant for implementation of structured digital analytics strategies for medium and large companies.
Are there any online English language resources by Matteo Zambon?
At the moment, the available English language resources by Matteo are: